Training MD530FF Helicopter Pilots
Aero Tech's MD530FF helicopter supports a variety of aerial services we provide to clients as well as helicopter pilot training for other vendors and the US Department of Defense.  We used the MD503FF in a busy 2011 fire season where it made more than 1500 bucket drops on fires.  Recently, we also have used it in aerial wildlife surveys, antelope captures, and round-ups of wild horses.  Additionally, we use the MD503FF in our helicopter pilot training service, which ranges from an introduction to flying the aircraft through advanced longline training.  Other vendors and the Department of Defense rely on Aero Tech's MD530FF expertise and training to prepare them for future missions.
Aero Tech Readies for a Busy 2012
In the first months of 2012, Aero Tech was busily preparing for the upcoming firefighting season and other service missions.  We conducted scheduled FAA 133, 135 and 137 training for our pilots and crew and performed internal and external records and safety audits.  Pilot Cameron Stalling has been FAA approved as a Check Airman for the Bell 407 and the MD530 helicopters.  Both Cameron  and Jennifer Bartley received their OAS cards, meeting the rigorous demands of FAA certification and receiving approval for precision vertical reference at the age of 24.  We are very proud of them and pleased to see these competent young pilots demonstrate their professionalism and quality airmanship.
Distinguished FAA-Approved Helicopter
Aero Tech attended the Helicopter Association International HELI-EXPO 2012 convention in Dallas, Texas, where Untied Rotorcraft displayed one of our customized Bell 407 helicopters.  Thanks to United Rotorcraft's aircraft completion service, Aero Tech's Bell 407 is the first to be FAA approved with combined left-hand command PIC, left-hand remote hook collective switches, and a left-hand bubble window.  These enhancements make our helicopter even safer for our pilots in performing precision vertical reference longline missions.
New Base of Operations in DeQueen, Arkansas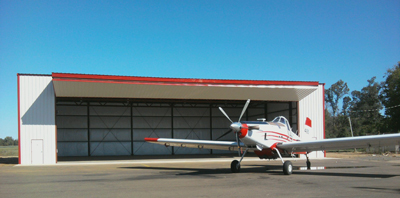 With completion of a new hangar in DeQueen, Arkansas, we established a third base of operations for the services we provide to the southeast region of the United States.  The new hangar was constructed in 2011.