Aero Tech Purchases Lodge for Alaska Operations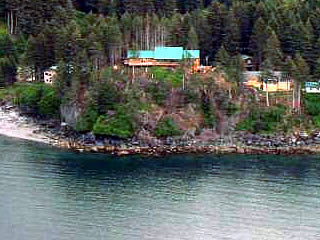 In September 2011, Aero Tech owners Ted and Patti Stallings purchased a remarkable property in Seldovia, Alaska to support its marine and aviation operations in Alaska. The beautiful Aero Tech Lodgesits on prime waterfront property and will serve as the company's corporate retreat and Alaska operational base.
Formerly the Alaska TreeTops Fishing Lodge, the resort has been a favorite destination for luxurious Alaska getaways and fishing trips.  The lodge is distinguished by its deluxe accommodations and its picturesque setting. It is located in a pristine wilderness area with spectacular harbor and mountain views and frequent sightings of eagles, whales, and sea otters.  The area is renowned for its superb sport fishing and sightseeing.  Private fishing charters are available for catching halibut, king salmon, silver salmon, and ling cod in open ocean waters.  Guided inland excursions are popular for fly or cast fishing in waters teaming with King Salmon and rainbow trout. Air tours offer exciting viewing of wildlife such as brown and black bears, moose and mountain goats in their natural habitat.  Back-country flights to beautiful remote beaches offer sea life sightings and clam digging when the weather and tides or right.
In addition to the lodge, Ted and Patti are building a hangar at the Seldovia Airport to support their aviation services.  They are also the new owners of a 40-ft. Alaska Maxcat Catamaran fishing vessel, which will be stationed in Seldovia Harbor and readily available for the thrill and fun of fishing in rough ocean waters.  The catamaran has a comfortable, roomy cabin, four berths, and a full galley.  It is powered by twin Volvo D6-350 engines and equipped with the latest fishing gear, GPS and subsurface locator systems. The boat is built for the roughest sea conditions, making it one of the safest boats available today.
Ted is eager to share the great Alaska experience with friends and colleagues where fishing around Seldovia is fantastic year around and the local people always extend a warm and friendly welcome.
Dousing Fires
Aero Tech had a very busy summer providing firefighting support in Arizona, New Mexico, Texas, Nevada, Utah, California, Arkansas, Idaho, Oklahoma, Washington and Alaska.  We deployed multiple crews, helicopters and our Air Tractor 802s to various fire sites.   For our services in Arkansas, we have established a base of operations in DeQueen, Arkansas.  The demanding, rapid-response fire suppression missions required precision delivery of water and fire retardant to the fire lines, which were often in remote and rugged areas.  Our clients expressed great appreciation for our pilots' relentless support and professional service.
Seeding the Wallow Fire Site in Arizona
Aero Tech deployed four of its AT-802 Air Tractors as well as our Bell 407 helicopter, piloted by Cameron Stallings to seed the Wallow Fire site in Arizona. The seeding service provided emergency erosion control, supplied nutrients for site restoration, and helped restore habitat for wildlife.  Aero Tech's aerial service was an essential component of the US Forest Service's fire recovery mission, which included seeding 85,000 acres burned by the wildfire.  The Wallow Fire was the third largest fire in Arizona's history.  It consumed 817 square miles in eastern Arizona and 24 square miles in western New Mexico.  Nearly 6,000 people were evacuated from the area during the fire.
Dedicated Support to Weyerhauser
Parker Lucus, an Aero Tech AT-802 pilot, and Jennifer Bartley, one of our skilled helicopter pilots, have been providing dedicated firefighting support to our Weyerhauser client.  This is Jennifer's first year piloting our MD530FF helicopter.  She made 1,500 drops on fires this 2011 season and demonstrated her expertise for flying in challenging conditions to help resource managers control fires and protect valuable timber resources.  We have received laudatory feedback from our client on Parker's and Jennifer's performance, which they delivered with excellent customer service, as always.
Support for British Petroleum cleanup in the Gulf of Mexico
Aero Tech was awarded a contract by British Petroleum to provide helicopter services in support of BP's offshore and onshore cleanup projects in the Gulf of Mexico. Cameron Stallings is the lead helicopter pilot, flying Aero Tech's MD530FF helicopter. Through our aerial services, we are providing crucial support to BP's cleanup and restoration project, which is the largest oil spill response in the history of the offshore industry. The oil spill occurred as a result of the explosion and fire on the Deepwater Horizon oil rig in the Gulf.
Firefighting in Texas and Mexico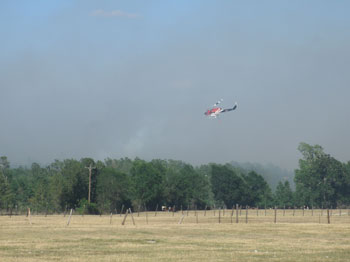 Aero Tech has deployed multiple resources to help fight fires in Texas and Mexico. In Texas, our tanked Bell 212HP helicopter is working almost nonstop to help control the wildfires burning across open and populated areas. The fires are propelled by strong wind gusts and hot temperatures that make for tough working conditions. Many Texans have lost homes and property in the disaster, and our concern for them has strengthened our drive to help conqueror and control the wildfires.
For the fires in Mexico, Aero Tech has deployed three of its single-engine tankers (SEATs). The aircraft are working tirelessly under contract to the Mexican Government, to help battle the worst fire season in Mexico's history. The Mexican Government has praised our performance on this contract, and we are proud of our pilots and their hard work.
Aero Tech Welcomes a New Pilot
Jennifer Bartley has joined the Aero Tech flight crew. Jennifer is an accomplished helicopter pilot. She will support firefighting and other helicopter contracts, flying our MD530FF and our new 2010 Bell 407. We welcome Jennifer to the Aero Tech team.
Helicopters serve federal needs
Aero Tech is providing a wide range of helicopter services to the federal government.  Through several active contracts, we support government needs nationwide.  For example, Aero Tech is providing one of its Bell 212HP helicopters, N20PF, for a four-year, Exclusive-Use Contract to provide fire support to the U.S. Forest Service.  Our Bell 212HP is a Simplex 407 tanked helicopter, which makes it ideal for firefighting in both remote forest sites and in areas near urban communities.  In addition to firefighting, we provide our helicopter for surveillance, crew transport and other essential fire support missions.
Firefighting in Alaska continues
Aero Tech's 36PF helicopter completed a successful year of firefighting service for 2010 and will remain stationed in Fairbanks, Alaska for the 2011 firefighting season.  Aero Tech is under contract with the U.S. Department of the Interior to provide fire-fighting support in Alaska.  The aircraft can carry hefty payloads and provides reliable performance in Alaska's rugged terrain.